"Ultimately, I do this for my kids. I watch them mess around in our local park. I hug them close at night. They look so peaceful, and I think what kind of degraded planet they are inheriting. I believe my kids - and all children - should have a decent future in balance with nature. Is that too much to ask?"


MAYA
Meet Maya, campaign lead with Our Kids Climate, co-founder of the grassroots parent-climate group Mothers Rise Up, trustee with Asylum Matters, a former head of Humanitarian Policy and Campaigns with Oxfam and a mother of three children ages 9, 7 and 3.

Text

: Beth Mark




Photography:

Sandra Freij
Maya lives with her family in west London, close to where she grew up. Although Maya and her family ended up living in a stable setting, this hasn't always been the case. She is the daughter of migrants, who were once stateless, and the granddaughter of refugees, which has made her all too aware of the suffering caused by displacement and conflict. Maya herself travelled and started her career with the International Crisis Group, a conflict prevention think tank, analysing how to prevent major conflict situations. After three years in Kenya and South Sudan, she moved back to the UK where she became the Head of Humanitarian Campaigns and Policy for Oxfam.























She continued to travel to places like Iraq, Jordan and Lebanon, and although she loved the job and team, it soon became apparent that the need for regular travel was hard to sustain with small children at home. This, however, wasn't the only reason why she had a change of heart. Maya goes on to explain why she ultimately decided on a different path:



"I had this real sense of 'the time had come to think about what was happening in our own backyard.' I left Oxfam shortly after Jo Cox, who had been a colleague, was murdered and the polarising debate about Brexit and its aftermath. I felt strongly that I needed to think about defending values on my own doorstep. I also started thinking much more about the climate crisis."







Before then, Maya explains that, although she recalls farmers in South Sudan speaking about increasingly unpredictable weather, the climate crisis seemed less of a priority. It felt distant compared to the 'here and now' human rights horrors she was witnessing,



"I found parts of the climate movement overly technical, I guess, and a bit detached from the realities of what was happening on the ground. I didn't understand, as I do now, the climate crisis as a question of justice."



.

It wasn't until later that the real ramifications of climate change started to click for Maya. She explains:



"I was on maternity leave, Extinction Rebellion and the youth strikes had taken off, and my older children were coming home from school asking if the world was going to heat up and explode. It was a constellation of factors that made me have that 'Oh my god' realisation: this is the issue that will undermine any progress we've made on anything else. It's existential. If we don't tackle climate, we can forget about progress in human rights or anything else. It's about our shared home. It is about protecting what, as a parent, as a mother, is more precious to us than anything: our children and their future."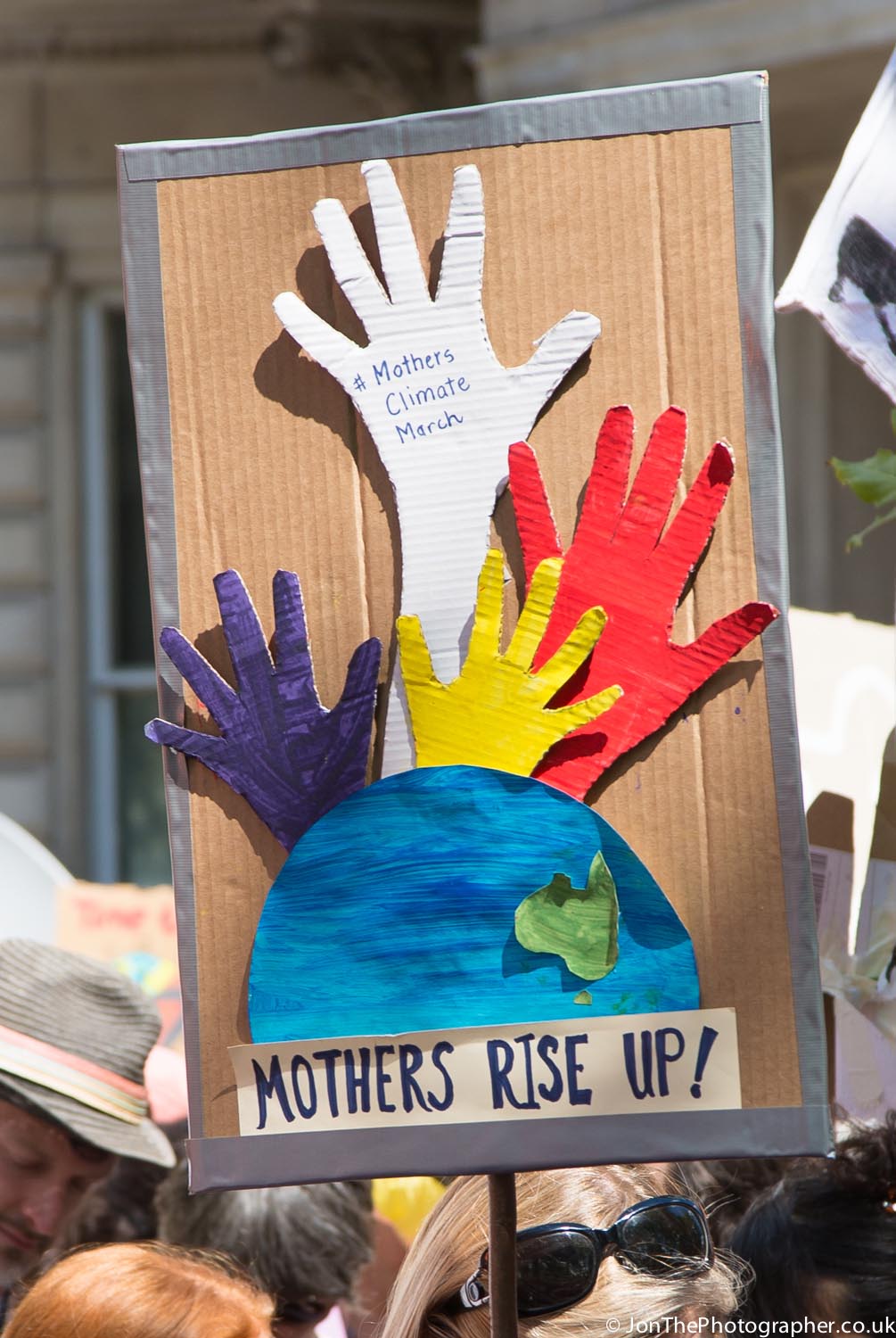 Photo: Jonthephotographer





A few weeks later, by accident, during a neighbourhood meeting, Maya met two mums who were thinking of organising a climate march for Mother's Day. They in turn were connected with a small group of mothers who had found each other at an XR action, congregating under a 'Worried Mum' placard one of them was holding. This was the beginning of Mothers Rise Up.

She and nine other worried mothers organised a 2,500-strong march in London in May 2019 that brought together diverse social justice movements, inspiring marches across the UK and Europe.

Maya describes what it was like to organise the event:

"It was intense! Over a 3 month period, we came together over frenzied Whatsapp groups, without any budget or previous experience of organising a march of this scale, and somehow we pulled off a beautiful, family event that surpassed all our expectations."












I ask Maya what she thought it was that led to the success of the march,



"The timing was critical as the youth strikes were just reaching their pinnacle, and parents started thinking 'What can we do?'. We flyered outside of schools and word of mouth was a powerful factor. We also approached the large organisations (Friends of The Earth, Oxfam and Greenpeace) who were supportive and helped amplify the event. Lastly, we were intentional in trying to create a media buzz ahead of the march so we pulled together a letter from prominent parents that ran on the front page of The Guardian."



Photo: Emma Vickers

Photo: Emma Vickers

This climate letter was signed by 120 public figures that spanned politics, culture, business, science, sport and faith in support of the youth climate strikes. It was this stroke of genius, which got the message of the march into the mainstream media.

I attended the march after friends shared information about it on social media. I was struck by the creativity of the event and its welcoming attitude. It filled a gap for people who wanted to show their support for far-reaching immediate climate action but preferred to do it within a peaceful and family-friendly environment.

This event paved the way for Maya to start campaigning with Our Kids' Climate who work to strengthen the collective voice and power of global climate-parent groups demanding bold climate action.







Over the past year, it has become more challenging than usual to amplify the voices of people who are climate concerned. With the inability to bring people together physically, parent-climate groups have been finding new and inventive ways to keep people engaged. The most recent campaign - a creative collaboration known as #OurOtherMother - has been a huge success, unifying and amplifying the voices of parent-climate groups globally.

















Maya gives an insight into the collective campaign:


"It's been a lovely collaboration between parent groups and children's illustrators and artists to show our love for #OurOtherMother – Planet Earth. We were in lockdown, we couldn't do street action, and parents were utterly exhausted. So we really wanted to do something that inspired and energised people after such a difficult year. The campaign took off in the UK - we were blown away by the outpouring of creativity, with over a thousand original images. Now it's going global, with more than a dozen countries taking part. We hope it will culminate in an art exhibit at the Glasgow COP."





The groups involved are hoping that the uplifting power of imagery will help take the climate message to new audiences and spark conversations about climate and our connections with nature in different locations.


I was interested to hear more about how the pandemic has affected how we campaign and generally think about the climate movement. Maya shares her thoughts,

















"When the pandemic happened, it was this unprecedented, all-consuming moment. It also exposed so many of the inequalities in our own society. I think certainly at the beginning, it was hard to talk about climate. We were all learning to adjust to this new reality.

Now there is a question of how can this be a reset moment and what does 'build back better' actually look like. We've got to try and build a sense of togetherness and a positive vision. The last year has shown the power of science, of collective action, of the NHS, of social safety nets. I so hope we can take some of these lessons and apply them to addressing the climate crisis."







Together with efforts to unify, we explore the need for harder-edged campaigning that more explicitly targets those in power. Maya notes that there is inevitably a tension between creating an inclusive movement and the imperative for drastic change - and that the parent voice, with its emotion and accessibility, can serve as a bridge.


She goes on to explain that Mothers Rise Up and Parents For Future are planning a new action:

















"Now that we can, we need to get back out on the streets and call out those with immense power who threaten our children's future. We are teaming up with the brilliant 'Insure Our Future' campaign to highlight the pivotal but little known role the insurance sector plays in propping up the fossil fuel industry. One of the worst players is Lloyd's of London - it continues to insure some of the world's most polluting fossil fuel projects that other insurance companies have refused to cover. On 18 June, we are taking our giant pushchairs to Lloyd's headquarters in the City of London to say 'Insure our kids' future, not fossil fuels!"












Ever the organiser, she adds: 'If you can't join us in person though we hope you can, you can get involved in the online action!'.

I ask Maya what it is that inspires and motivates her to keep going. She replies:

"In my role with Our Kids Climate, I get to work with climate organisers from around the world from Brazil to New Zealand. It's amazing to hear their stories. And of course, my fellow organisers at Mothers Rise Up and Parents for Future keep me going: after a full day of work or caring for kids at home, they will get on a call and give up what little leisure time they have to plot the next action. I am so inspired by the dedication, passion and generosity of this community. The climate-parent movement is bringing new people into the climate space. It has the potential to unify and I believe it's on the cusp of becoming a powerful force for change…"








She pauses and goes on to say:

"Ultimately, I do this for my kids. I watch them mess around in our local park. I hug them close at night. They look so peaceful, and I think what kind of degraded planet they are inheriting. I believe my kids - and all children - should have a decent future in balance with nature. Is that too much to ask?"


We end our discussion with Maya expressing what she feels is the most powerful way we as individuals can help the climate,




























"I think about this a lot. I don't want to get into that false dichotomy between personal lifestyle choices versus systemic change because you need both and they are mutually reinforcing. But at the same time, there are always trade offs. We could spend all our lives striving to live sustainably, and let's face it, a lot of that pressure falls on women within the household - who's going to be thinking about eco-friendly party bags?! And yet, the real deep changes need to be made elsewhere. I grapple with the tension between spending time on activism versus some of the lifestyle changes that I would really love to make, but I don't always have time or energy.

Ultimately, for me, the most important thing is using your voice as a citizen, and thinking about how you vote and engage politicians. I don't think we should beat ourselves up if we aren't doing everything right. It should not be a barrier to entry into the climate movement. If you now and again eat meat, you can still be a climate organiser! If it's only the people who lead a 'perfect' lifestyle (whatever that is) that are allowed in, we're never going to get the change we need. We need less judgement and more creative ways to bring people in, listen to their needs and hopes."


I have experienced first-hand the inclusive and welcoming nature of parent-climate groups. I really like how Maya recognises that finger pointing is unhelpful and that a fair transition is a vital process. This has to be a great starting point for anyone wanting to involve others in the climate movement. Parent or not, all are welcome, all are needed! Everybody has a part to play.


You can find Maya on twitter @MayaMailer

Three take-home statements


︎︎︎︎︎︎︎︎︎︎︎︎︎ The last year has shown the power of collective action. Lets apply these lessons to the climate crisis.



︎︎︎︎︎︎︎︎︎︎︎︎︎ The climate-parent movement is bringing new people into the space.
It has the power to unify and is on the cusp of becoming a powerful force for change..


︎︎︎︎︎︎︎︎︎︎︎︎︎ If you now and again eat meat, you can still be a climate organiser! We need less judgement, and we can bring more people into the movement by understanding where they're at and listening to their needs and hopes.