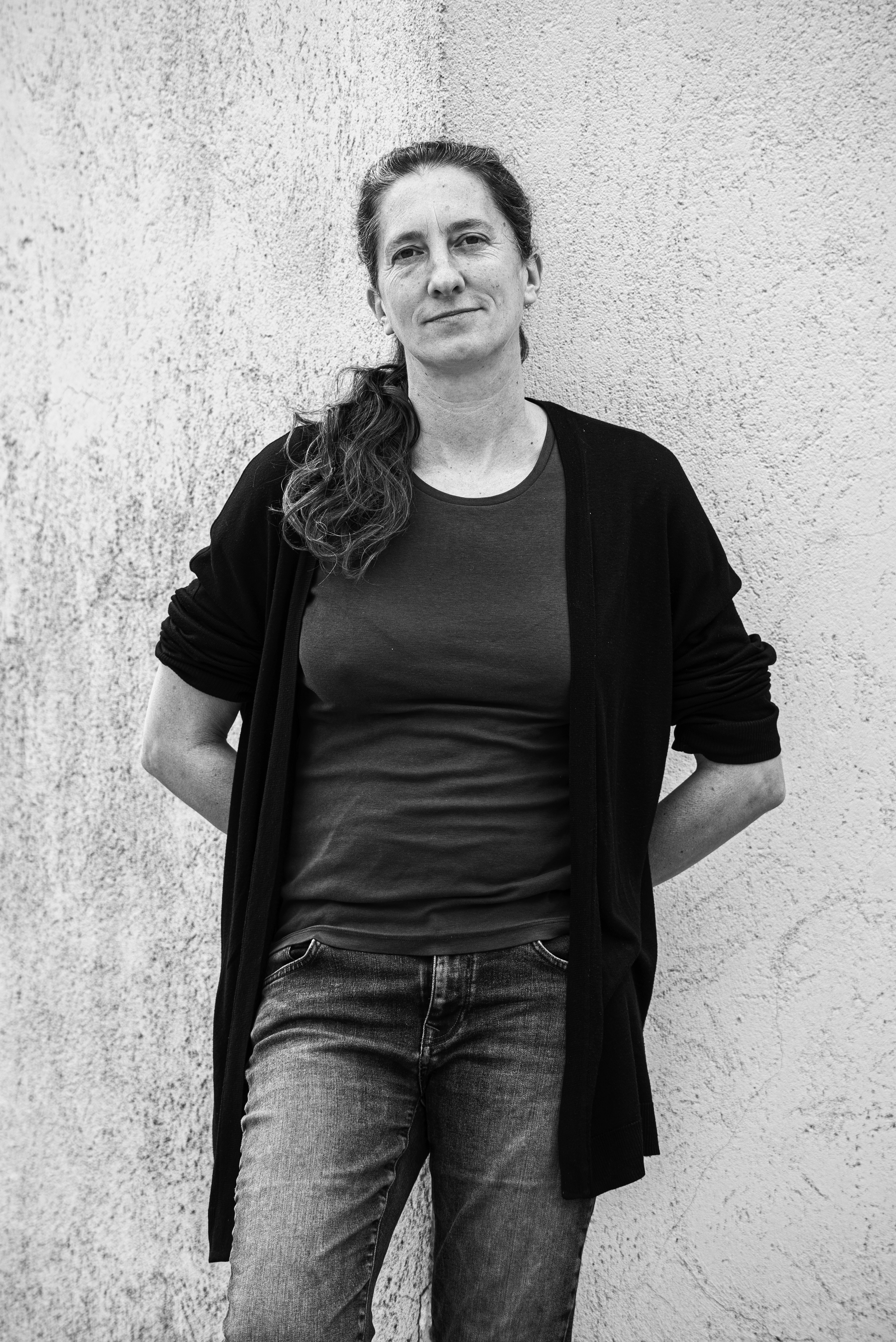 "I was interested in ethical consumerism and I started buying from this ecological company called Howies. I had this T-shirt, and on the label, it said 'buy land, they don't make it any more'… this stuck with me. I thought if I buy land, however small it is, I know it will continue to be nature. I was really excited to explore the idea of how to live with a positive impact, where you can give rather than take."
ANNA
Text

: Beth Mark
Photography: Bernat Rueda
Art direction: Sandra Freij
Meet Anna, a Permaculture Association Coordinator living in Barcelona with her partner Bernat and their seven-year-old daughter Kira. On the edge of the city, during lockdown, Anna and family have spent much of their days cycling down to the local beaches and involving themselves in community garden projects in an attempt to bring their neighbours closer together.

























Anna grew up in the UK and spent time in Mexico before moving to Barcelona in 2006 where she studied for a Master's Degree in International Cooperation and worked part-time in a Secondary School. In 2008 she decided to buy a piece of land, which is now known as the Boodaville project; a permaculture site in the Matarranya region of Spain. Anna explains what prompted the purchase,


"I was interested in ethical consumerism and I started buying from this ecological company called Howies. I had this T-shirt, and on the label, it said 'buy land, they don't make it any more'… this stuck with me. I thought if I buy land, however small it is, I know it will continue to be nature. I was really excited to explore the idea of how to live with a positive impact, where you can give rather than take."









I first met Anna in 2016 when I volunteered at the Boodaville Project. The site is surrounded by a semi-arid landscape about 2.5 hours inland from Barcelona, near Calaceite town. The project is a collaboration between Anna herself and any permaculture teachers, volunteers, friends and travellers who are interested in getting involved. I spent a fascinating 6 weeks learning how to rejuvenate the land for growth, learning how to capture rainfall, and create compost and mulch effectively to bring added nutrients to a baron landscape.









In 2019, Anna decided to leave her teaching position and dedicate the majority of her time to facilitating projects at Boodaville, she explains,















"I decided to leave education because I came to the final conclusion that the current education system is part of the problem. My school had no values to do with social and environmental issues and too many values to do with business and making money. After the 2018 IPCC report, where they outlined the speed at which society has to change, I was so shocked to see no reaction. That was it for me; I quit my job and spent time writing a resignation letter as a form of activism to share with all my students, fellow teachers and everybody that would listen. It was my statement to say that something is massively wrong with the world."















Anna now works full time on building up Boodaville, which is all about environmental education, small-scale workshops, interventions in soil regeneration and increasing biodiversity. She is also looking at working with the local community and expert project managers to take regenerative agriculture across the whole valley.













As well as all this, usually taking place in May, Boodaville is known for its yearly festivals, Anna explains,

"In the past, if you look at eco-communities, education projects, outreach projects, community building projects, celebration is such an important part of your design. Taking the time to celebrate and have fun is really important and that's why many communities have parties. Every year, we try and get together with anybody and everyone who's been involved or interested in a project to offer workshops on themes based around the idea of well-being and permaculture."




Permaculture is a developing design system based on principles found in nature. Its purpose is to create living environments that are harmonious, sustainable and productive, while greatly reducing the work and energy required maintaining them.



















Anna explains what permaculture means to her,

"My first introduction course was enough to give me a real grasp of permaculture; the system's thinking, and looking at all of the inputs the outputs to design pretty much anything. People often talk about food production in permaculture but that's just one element of it. Whatever it is that you're looking to do in your life, you can use these tools of eco-social design to make sure that you know you're doing it efficiently and you're doing it ethically. And that's what permaculture is for me."











Anna hopes to continue to build upon this space, to bring education to anyone who has the inclination to learn. Like many parents, Anna is motivated by a deep concern she has for the future and what that will mean for her daughter, so continues to want to be part of the solution. Anna explains how she copes with these feelings of unease,

"I'm a member of the Deep Adaptation Group and there's a project called the Dark Mountain Project which I follow. These are people writing about how bad the climate situation really is. They go to some really dark places but they also talk about active hope and connection with nature. For example, Joanna Macy PhD Author and teacher, talks about making sure that you live your life creating love and connection and not creating hate and division. A lot of it's related to mindfulness, finding joy in the small things, and in your community...

...The people that you meet on this path are amazing. If you start going to conferences about regeneration, if you start learning about permaculture, if you start getting involved in these networks, the people around you are so inspirational."









We end our discussion with me asking Anna if she has any advice for someone who has the desire to create his or her own permaculture site. Anna responds,

"I think the word permaculture is a great way of finding out what you might be interested in pursuing. And then finding the right balance between learning and doing. It's about getting to know people, creating a community, finding out what other people are doing, and visiting other projects. There are so many projects out there that desperately need people to join. I think many people get stuck in this idea that they want to go and buy land and do their own project, and maybe the kind of thinking that's needed now is 'let's go and see what's out there and instead of starting something new, we can find the right fit and get involved in something that's already happening'."



Please follow the Boodaville web page where they explain various different opportunities to work or volunteer. If you want to move to Spain, and you like the idea of living in a rural village in a Mediterranean climate there's plenty of interesting alternative permaculture stuff happening in the area.

I look forward to visiting again in the future with my children.







---
Further reading and resources